President Obama Announces the BRAIN Initiative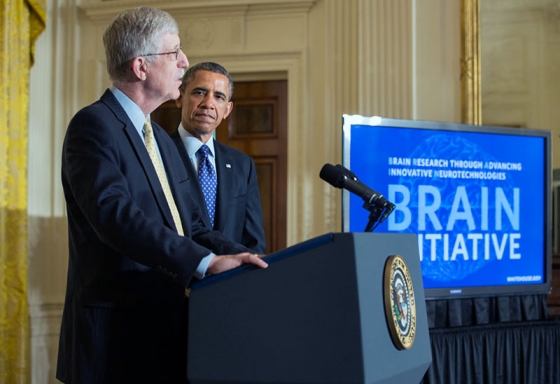 On April 2nd in the East Room of the White House, President Obama announced the Brain Research through Advancing Innovative Neurotechnologies (BRAIN) Initiative. He began his remarks by emphasizing the importance of scientific research and innovation and how the resulting technology and knowledge have contributed to our country's economic growth and changed our lives. Computer chips, GPS, the Internet and the human genome were a few of the examples that he gave.
The BRAIN initiative, and President Obama's concept of this as "one of the Administration's Grand Challenges of the 21st century," presents an extraordinary opportunity for the neuroscience community and for patients with brain disorders. There is no accurate accounting for the toll that brain diseases exact but estimates are that more than 1000 brain disorders affect 100 million Americans and that the cost exceeds $5 billion.
Many regard understanding how the human brain works as the last great frontier in biomedical research. The Human Brain Connectome and other projects that are currently underway are providing wiring diagrams for the human brain. Scientists are complementing these wiring diagrams or macroconnectomes with detailed analyses, connection by connection, of very small regions of rodent brains to create microconnectomes. In the past five years, we have also made significant progress in our ability to visualize individual neural circuits in experimental animals and perturb the function of their components. Our current understanding of brain circuitry has been translated into remarkably effective treatments for some brain disorders in the form of deep brain stimulation for Parkinson's disease, intractable depression, and dystonia, and is now being applied to the design of prosthetics and brain machine interfaces.
Despite these advances, much remains to be done before we have a dynamic picture of the brain in action and understand how we are able to see, hear, reason, learn and remember. The BRAIN Initiative will support the development of the new tools, technologies and research strategies required to reach this goal. NIH, DARPA and NSF will contribute to the BRAIN Initiative. Dr. Collins has already taken the first step for NIH by establishing a working group of the Advisory Committee to the Director, headed by Drs. Cori Bargmann and Bill Newsome, to develop a detailed plan for the initiative. While the working group's final report will be available in June 2014, the first recommendations are expected in Fall 2013. These recommendations would guide solicitations for proposals to be funded in FY14.
Read more about the President's Initiative.
Read the original article here.