Grant will Help Brain Aneurysm Patients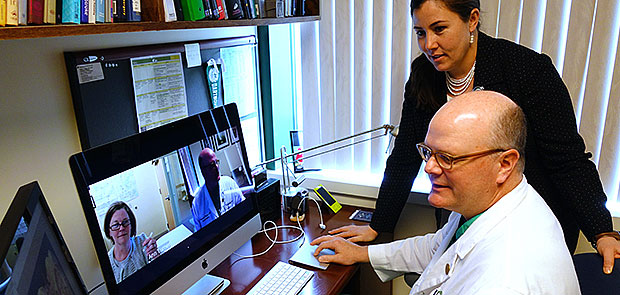 When 12-year-old Marisa "Missy" Magel passed away suddenly while at summer camp in rural Texas, it was from a disease her family never knew she had—brain aneurysm disease. The disease claims 32,000 lives annually in the United States—more than prostate cancer—partly because brain aneurysms are often misdiagnosed as migraine headaches.
Now a $150,000 grant to the Center for Telehealth at Dartmouth-Hitchcock (D-H) from the Missy Project, a foundation her family started in 1999 following Missy's death, will help brain aneurysm patients in northern New England have rapid access to neurovascular specialists; access that may have helped save Missy's life.
"Telemedicine plays a crucial role in delivering health care in the right place at the right time, especially in areas where there is no access to the medical expertise that is needed," says Sarah Pletcher, MD, director of the Center for Telehealth and the Center for Rural Emergency Services and Trauma at D-H. "Thanks to this grant from the Missy Project we can use telemedicine platforms to give children and adults real-time access to neurovascular specialty care, in partnership with local providers and community hospitals in our region and beyond."
Pletcher and Robert J. Singer, MD, FACS, a board certified neurological surgeon with specialty training in the diagnosis and management of neurovascular diseases in children and adults, will oversee the neurovascular telemedicine program. In addition to virtual aneurysm clinics, the D-H project will include a 24/7 emergency department telemedicine acute consult service for pediatric and adult patients with suspected subarachnoid hemorrhage (which accounts for half of all hemorrhagic strokes), and customized educational video content. Patient visits to the virtual aneurysm clinic will include educational content and a real-time video visit with Singer, during which he will discuss their treatment options and use telemedicine software to display and discuss their CT scan images.
"Telemedicine is a great fit for many of our patients, especially those with unruptured neurovascular lesions because a physical examination isn't always required. During the consultation I'm looking at imaging, explaining pathology, and then giving an opinion as to what the next step is," explains Singer, who is the Medical Director of the JB Marshall Laboratory for Neurovascular Therapeutics at Dartmouth.
In addition to providing more timely care, Singer notes that neurovascular telemedicine is also more convenient for patients.
"Ordinarily, after getting a scan from their doctor, patients have to wait weeks until they can get an appointment with me," says Singer. "Many of them then drive great distances for what is typically a 15-minute appointment, and then they have to return at a later time if they need a diagnostic or treatment procedure. That 15-minute appointment can easily be conducted via the virtual aneurysm clinic. This reduces patient travel and the wait time for an appointment, and also give patients a better visit."
Mary Magel, the executive director of the Texas-based Missy Project and mother of the late Missy Magel, says the nonprofit's board voted unanimously to fund the Center for Telehealth's program. "To me, this is a brilliant program and a great way to serve the community," she says. "I think this will dramatically cut the time from incident to treatment and I believe it's going to save a lot of lives."
(As published on www.darthmouth-hitcock.org)
Read the original article here.